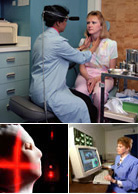 Over 3000 patients have been treated at the Neutron Therapy Facility (NTF) since it opened on September 7, 1976.

Neutrons are more effective at killing tumors than conventional radiation therapy. Cure rate depends on the type of cells in the tumor (histology), the size of the tumor (stage and/or grade), whether the tumor has spread to other parts of the body (metastasis), and the patient's general health.

Neutrons may be appropriate for the following sites, depending on stage and histology.(Click on link for more information about specific cancers.)


HEAD AND NECK
Salivary glands, tongue, pharynx, oral cavity, nasopharynx
CHEST
mediastinum, pleura, lung
ABDOMEN AND PELVIS
Prostate, kidney, uterus
EXTREMITIES AND TRUNK
Soft tissue, bone, cartilage
PALLIATIVE
Large tumors and metastasis from neutron-sensitive tumors
SKIN
Melanoma
NTF NEWS

The NIU Institute for Neutron Therapy at Fermilab is possible because of a unique alliance between the Fermi Research Alliance (FRA) and Northern Illinois University (NIU). For more information, see www.neutrontherapy.niu.edu.

Dr Arlene Lennox, Medical Physicist at the Neutron Therapy Facility gave a lecture at the Fermilab Lecture Series on "Hadron Therapy and Cancer Treatment". A link to the slides can be found on our Publications page.

To view television news features about the Neutron Therapy Facility, see our Publications page.